Welcome, A New Era in Healthcare
KPC Health (KPC Health) is a coalition of local doctors who are committed to creating strong, state of the art hospitals that serve as centers of medical excellence in the Hemet, San Jacinto, and Menifee valleys. KPC Health includes
Hemet Valley Medical Center
, a 327-bed facility located in Hemet,
Menifee Valley Medical Center
, an 84-bed facility located in Menifee.
---

Hemet Valley Medical Center
is a 327-bed hospital that places the needs of our patients first and the foremost, focusing on excellent clinical outcomes, patient safety, and exceptional service. Founded in 1943, Hemet Valley is fully accredited by The Joint Commission as the largest private employer in the Hemet-San Jacinto Valley.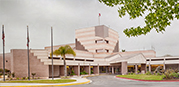 Menifee Valley Medical Center
is an 84-bed hospital operating high quality healthcare with state-of-the-art technology. Founded in 1989, the hospital boasts an award-winning efficient building design with all private rooms and beautiful views.
Hemet Valley Recovery Center and Sage Retreat
offer chemical dependency services to assist patients in all aspects of their care, from acute medical detoxification through rehabilitation and aftercare. Opening in 2001, the center has a professional staff that has gained the reputation as a quality team with experience able to succeed in the treatment of difficult and complex cases.
---
KPC Health assumed ownership of the hospitals on October 13, 2010 upon the completion of a $163 million transaction that moved VHS from bankruptcy and brought new healthcare opportunities to area residents. The sale of the public hospitals to KPC Health was overwhelmingly approved by 87 percent of voters following a special election in December 2009.
Mission Statement
: Commitment for Healthier Communities
Vision Statement
: Provide Accountable and Compassionate Care
Values
:
Accessible
Passionate
Positive Attitudes
Professionalism
Respect
Teamwork
Trustworthiness
Measurable Quality